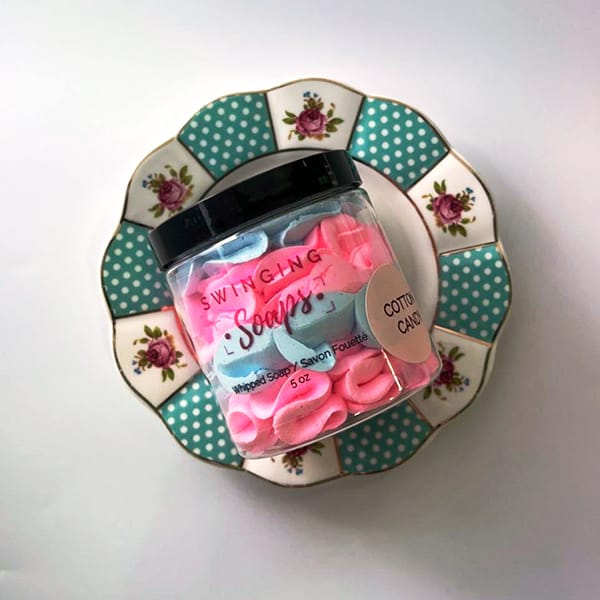 Cotton Candy Whipped Soap
A sweet treat for your skin!
Experience the ultimate in shower luxury with our Cotton Candy Whipped Soap. Whipped to perfection, this fluffy soap is velvety smooth and super creamy, delivering a rich lather that glides over your skin and leaves you feeling silky smooth.
Indulge in the rich and fluffy texture of our whipped soap body wash and transform your shower routine into a truly luxurious experience. Our high-quality ingredients make our whipped soap body wash gentle enough for all skin types, while still providing a unique and fun way to pamper yourself.
Treat yourself to a deliciously indulgent shower experience and enjoy the sensation of our hand-piped whipped soap with big, beautiful ruffles. Try our Cotton Candy scent or explore our other fun and scrumptious whipped soap body washes.
Fun and unique: Our Cotton Candy whipped soap is a fun and unique way to add some excitement to your shower routine. With its fluffy texture and sweet scent, it's sure to put a smile on your face and make your shower feel like a special treat.
Nourishing: Our whipped soap is made with high-quality ingredients that will leave your skin feeling soft, smooth, and nourished. It's gentle enough for all skin types, so you can enjoy the benefits no matter what your skin needs.
Convenient: Our whipped soap is a convenient all-in-one product that cleanses and moisturizes your skin at the same time. It's perfect for someone who is always on the go and needs a quick and easy way to take care of their skin.
Instagram-worthy: Who doesn't love a product that looks great on Instagram? Our Cotton Candy whipped soap is beautifully packaged and looks like a jar of frosting, making it the perfect addition to your bathroom shelfie.
Self-care: Taking care of your skin is an important part of self-care, and our whipped soap is a fun and indulgent way to do just that. Treat yourself to a luxurious shower experience and enjoy the benefits of nourished and soft skin.
Whipped Soap Scent: Delight in the sweet and delicious aroma of freshly spun sugar, infused with creamy vanilla and fruity notes of strawberry and cherry. This playful and uplifting scent is perfect for those who love candy and fruity fragrances. Let the irresistible aroma transport you to a whimsical wonderland of childhood memories and carefree moments.
5 oz
Let's get frothy! Scoop up a dollop of our whipped soap and massage it onto your wet skin. Watch as it transforms into a rich lather that covers you in a velvety cloud of suds.
Enjoy the delicious scent and feel the luxurious texture as you rinse clean. Voila! You're left with irresistibly soft and moisturized skin.
It's like having a birthday party for your shower routine!
Glycerin, Aqua, Sorbitol, Sodium Cocoyl / Lauroyl Isethionate, Disodium Lauryl Sulfosuccinate, Sodium Chloride, Levulinic Acid, Potassium Sorbate, Parfum.,
May contain/Per contenier: Mica, Violet 2, Red 40, Red 33, Yellow 6, Yellow 5, Blue 1, Green 5.
Free Shipping! With any purchase over $80
Shipping

At Swinging Soaps, your satisfaction is our priority. We offer affordable rates for shipping your order in Canada and the USA.

Canadian Shipping:

Get flat-rate shipping for orders below $80 at just $12.00. Enjoy free shipping for orders above $80.

US Shipping:

We now ship to most states in the USA! You'll find multiple shipping rates to choose from.

Delivery Times:

It usually takes 3-9 business days for your package to arrive. You'll receive a tracking number via email once it leaves our shop to view it's estimated delivery date.

We're here to make your shopping experience hassle-free and convenient. Should you have any questions or need assistance, don't hesitate to reach out. Happy shopping!

Returns

If you're not completely satisfied with your bath and body products, no worries! You can contact us within 30 days of receiving them.

Just shoot us an email at hello@swingingsoaps.com and let us know your order number, your name, and how we can help. We will sort things out for you.

We really, really want you to be over-the-moon happy with every purchase you make. So, don't hesitate to get in touch if you need anything. We're here to make sure you have a bath and body experience that's out of this world!
Pickup & Local Delivery Options

Shop online and pickup at our shop when your order is ready, or stay cozy in your jammies while we hand deliver your goodies!

Local delivery is only $6.00 for Windsor, LaSalle, and Oldcastle areas.

For Belle River, Lakeshore, and Tecumseh, we charge a $12.00 delivery fee.