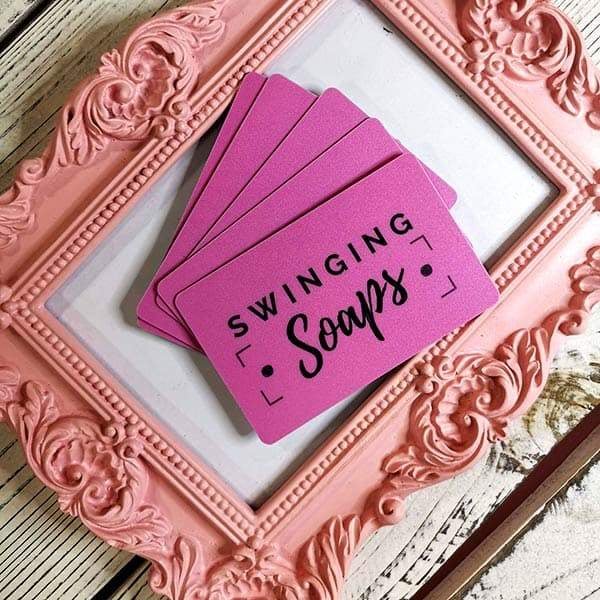 Swinging Soaps e-Gift Card
The ultimate ticket to bath and body bliss! With a Swinging Soaps Gift Card, the possibilities are endless. They'll discover a world of relaxation and rejuvenation.

Not only do our gift cards unlock a treasure trove of self-care goodies, but they also come with a dash of excitement and personalization. Let your special someone explore our online store, handpick their favorites, and create a truly bespoke spa-like experience at home. It's the gift of choice, delivered with a sprinkle of anticipation.

Whether it's a birthday, anniversary, or just because, our gift cards are the perfect way to show someone you care. And the best part? They can enjoy the convenience of shopping at their leisure, anytime and anywhere.

It's a present that's sure to make a splash.
How do Swinging Soaps Electronic Gift Cards work?

Swinging Soaps Electronic Gift Cards are sent by email. When you buy one, you'll receive an email with a special code. During checkout, just enter the code to use the gift card value.

What denominations are available for the gift cards?

You can choose a gift card value from $10 to $300. There are lots of options to fit your budget.

Can I send the gift card directly to the person I'm giving it to?

Yes! When you're checking out, you can enter the recipient's email address. The gift card will be sent right to their email. If you prefer, you can also have it sent to yourself.

Can I get a refund for the gift cards?

Gift cards can't be refunded or exchanged for cash.

If you have any more questions or need help, feel free to contact us. We're here to make your gifting experience easy and enjoyable.
Swinging Soaps Physical Gift Cards

Our physical gift cards are a fantastic option as well! You can pick up these cards at our shop. Plus, you can also purchase beautiful gift boxes with a pretty ribbon to go with your gift card. It's a wonderful way to surprise someone special. Simply stop by our shop. We can't wait to help you create a memorable gift!