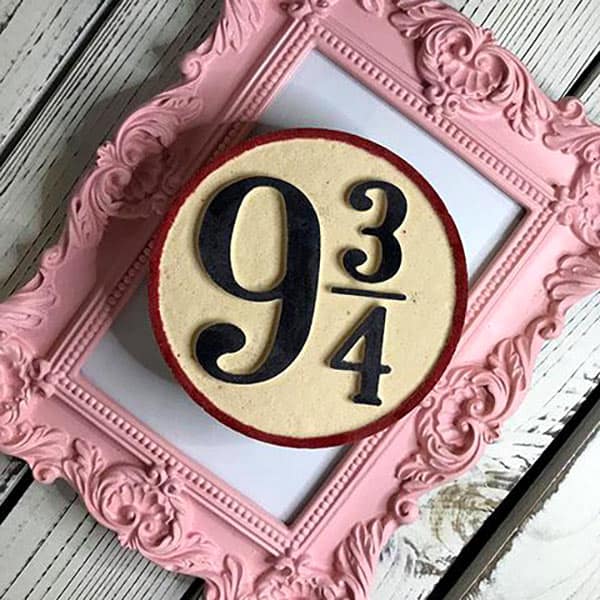 Platform 9 3/4 Bath Bomb
Calling all witches and wizards! An enchanting Platform 9 3/4 bath bomb that will bring a smile to any magic-obsessed apprentice!
Dissolve this Wizard's bath fizzy to see magical swirls of cream, red and yellow. Lay back in peach colored bath water that invites with touches of golden shimmer while the aroma of shaved coconut, sticky maple syrup, golden butter, and white chocolate tea blended with warm spices and vanilla rum fill your senses.
200 g
Start with a nice, clean tub and fill with warm water. Carefully unwrap your Platform 9 3/4 bath bomb and gently lower into the water. When your bath bomb dissolves, stir to evenly disperse the colored water. Carefully step into the water and enjoy! Rinse tub after use.
Sodium Bicarbonate, Citric Acid, Butyrospermum Parkii, Sodium Lauryl Sulfocacetate, Polysorbate 80, Parfum.,
May contain/Per contenier: Red 40, Red 33, Yellow 5, Yellow 6, Blue 1, Green 5, Violet 2, CI 50420, CI 45410:1, Titanium Oxide (13463-67-7), Manganese Violet (77742), Iron Oxide (77491), Chromium Oxide Green (77288), Ultramarine Blue (77007), Tin Oxide (778161), Tin Dioxide (77891), Green 7(77007), CI 74260, Titanium Dioxide, Mica (77019), Fluorphogopite (12003-38-2), Silica, Fluorphogopite (12003-38-2), Polyethylene Terephthalate, Polyyurethane 33, Polyester-3, Acrylates Copolymer Fluorphogopite (12003-38-2), Aluminum, Resin Epoxy Pigment.
Free Shipping! With any purchase over $80
Shipping

At Swinging Soaps, your satisfaction is our priority. We offer affordable rates for shipping your order in Canada and the USA.

Canadian Shipping:

Get flat-rate shipping for orders below $80 at just $12.00. Enjoy free shipping for orders above $80.

US Shipping:

We now ship to most states in the USA! You'll find multiple shipping rates to choose from.

Delivery Times:

It usually takes 3-9 business days for your package to arrive. You'll receive a tracking number via email once it leaves our shop to view it's estimated delivery date.

We're here to make your shopping experience hassle-free and convenient. Should you have any questions or need assistance, don't hesitate to reach out. Happy shopping!

Returns

If you're not completely satisfied with your bath and body products, no worries! You can contact us within 30 days of receiving them.

Just shoot us an email at hello@swingingsoaps.com and let us know your order number, your name, and how we can help. We will sort things out for you.

We really, really want you to be over-the-moon happy with every purchase you make. So, don't hesitate to get in touch if you need anything. We're here to make sure you have a bath and body experience that's out of this world!
Pickup & Local Delivery Options

Shop online and pickup at our shop when your order is ready, or stay cozy in your jammies while we hand deliver your goodies!

Local delivery is only $6.00 for Windsor, LaSalle, and Oldcastle areas.

For Belle River, Lakeshore, and Tecumseh, we charge a $12.00 delivery fee.